Description
Exceed all limits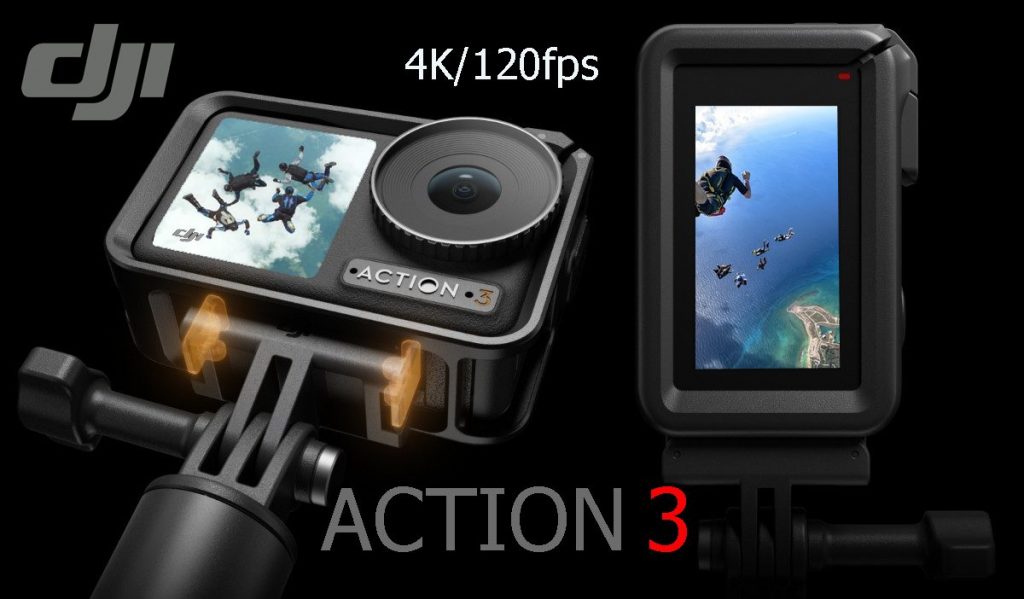 Push your every adventure to the limit with Osmo Action 3. 
1
 It features a quick-release design for convenient horizontal and vertical mounting and dual color front and rear touchscreens for convenient parameter and playback control. With improved cold resistance, battery life and waterproof capabilities, there has never been a better time to jump into the action.
4K / 120fps and super wide FOV

HorizonSteady

Cold resistant and extended autonomy

Vertical quick release support 

2

Waterproof up to 16m 

3

Double touchscreen
Image system
Imaging that ignites expressiveness
4K / 120fps
Any moment can become a highlight.
Shoot in 4K / 120fps 4 and capture your experiences in dynamic and incredibly smooth detail.
155 ° super wide angle FOV
The possibilities are endless.
A super wide FOV makes every scene more captivating, engaging and memorable.
1 / 1.7 "sensor, optimal image quality
Color temperature calibration
Experiment with hyper realistic colors.
Action 3's color temperature sensor intelligently adjusts white balance and AE to deliver highly accurate color, even in complex lighting environments such as scuba diving or deep free diving.
Quick release design
Clip it anywhere
Safe and efficient
Shock resistant for secure connections. 5
Action 3's innovative quick release design improves impact resistance by combining powerful magnetic force and an additional positioning clip. This makes it perfect for high intensity scenarios. 5 It is also practical to remove and flexible enough to quickly change positions and accessories.
Vertically
Install it however you want
The horizontal-vertical protective frame allows you to select the orientation to your liking and also to shoot vertically in a few seconds. Just remove it, rotate it and hang it up.
Battery
Cold resistant and extended autonomy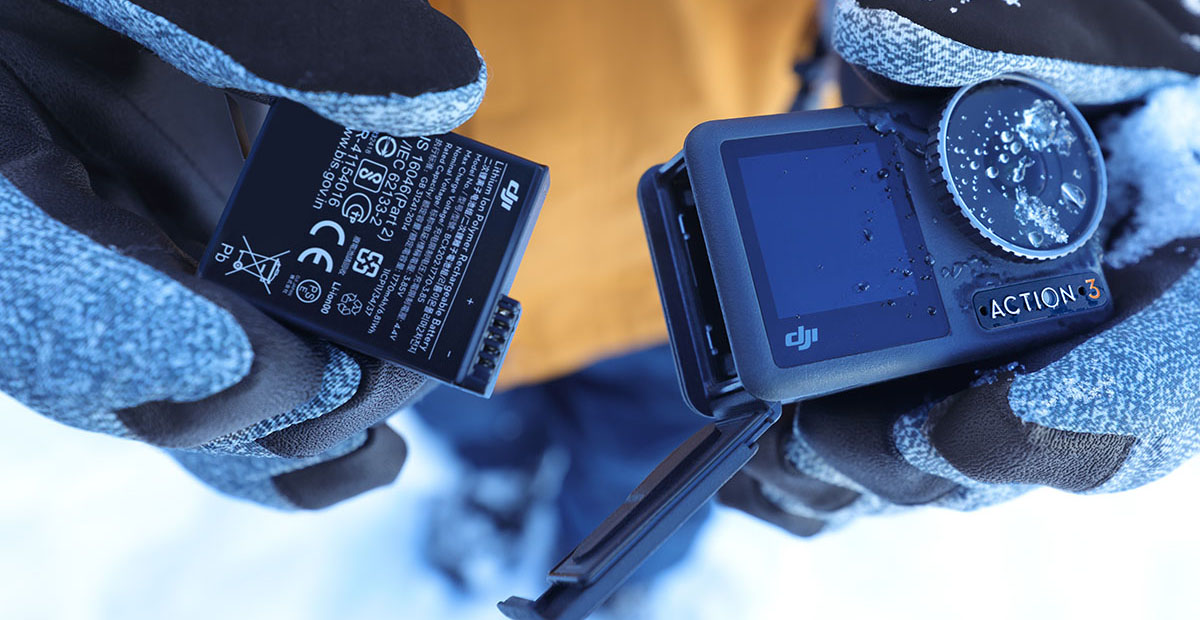 Embrace the cold: -20 ° C (-4 ° F)
Who is afraid of the cold?
Records continuously for up to 150 minutes in temperatures as low as -20 ° C (-4 ° F). 6 Action 3 doesn't just handle the cold. It thrives you.
Autonomy extended to 160 min. 7
The battery lasts as long as you do.
Battery capacity limits have been exceeded with Action 3 to deliver over 2.5 hours of battery life. Capture entire adventures on a single charge.
Fast charging
Stop waiting.
Action 3 is the first action camera that natively supports fast charging technology. In just 18 minutes, it can be charged up to 80%, 8 which is enough for about 2 hours of shooting. 8
Multiple EIS Modes
A truly complete stabilization system
RockSteady 3.0
A new generation of intelligent stabilization algorithms powers the latest version of RockSteady EIS, which can effectively eliminate camera shake in all directions. It is supported when recording up to 4K / 120fps, providing a stable and immersive first-person perspective.
HorizonSteady
This intelligent stabilization feature helps eliminate camera shake in all directions and also corrects skew horizontally at any angle. This means that footage will remain horizontally level, even during strong jolts and 360 ° rotations. Additionally, you can also activate HorizonBalancing, which horizontally corrects skew within ± 45 ° and supports stable 4K / 60fps video recording.
Protection
Carefree creations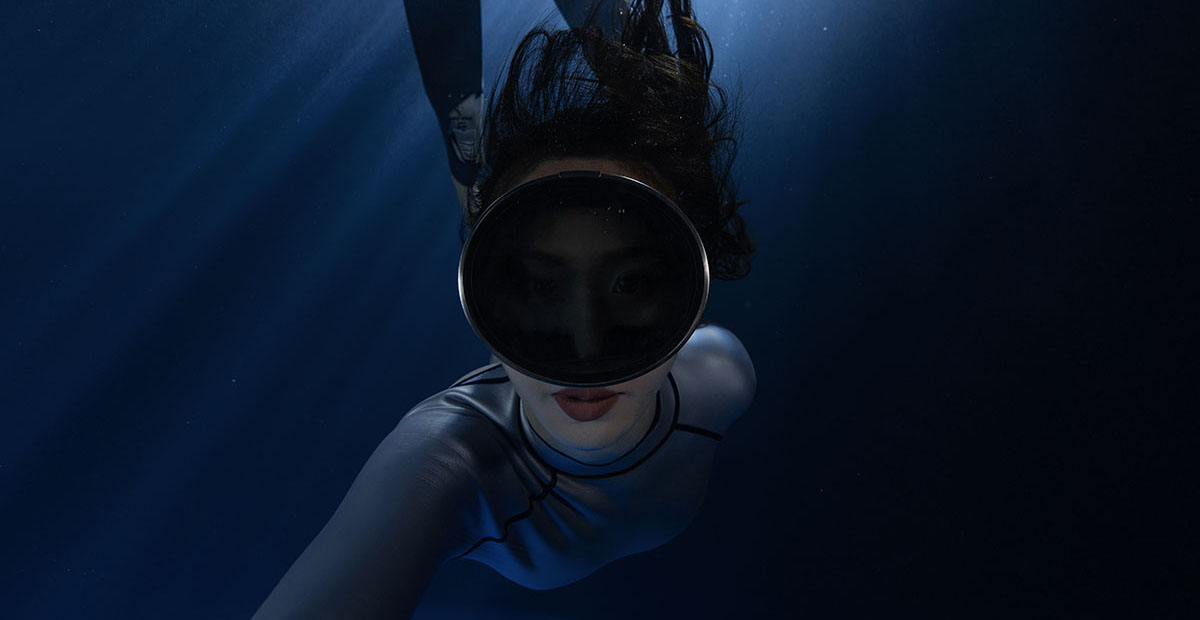 Waterproof up to 16m 3
Let's go deeper.
The camera body is fully optimized to be used up to 16m depth, enhancing your underwater adventures and without the need for additional accessories.
High strength glass
Drop resistant and hydrophobic. The front screen, rear screen and protective lens case are made of Gorilla Glass resistant not only to wear and scratches, but also to drops from 1.5 meters. 5 In addition, these three elements have a hydrophobic coating, 9 which repels water without affecting image quality.
Check
Practical features.
Double touchscreen
Front touchscreen.
The front screen is convenient for vlogging and selfies and supports the most commonly used touch control functions. You no longer have to rotate the camera to adjust parameters, select modes or play videos.
When the camera switches from landscape to portrait orientation, the user interface adapts accordingly. The touchscreens are sensitive enough that they can be operated easily even with wet hands.
Voice interaction
Voice messages
Intuitive control, even if you don't see screens. Press the Quick Switch button shortly and the camera will voice the current shooting mode. Even if the camera is installed on a helmet or other location that is difficult to see, you can accurately select the required mode and be sure not to miss a single moment. You can also add up to 5 custom parameter sets to the shooting mode list.
Voice control 10
Remotely control your camera via your voice. Ideal for situations where your hands are busy, Action 3 recognizes voice commands with a high recognition rate, allowing you to always stay on the spot.
Sound recording
Vivid movies, remarkable audio
Stereo recording
Exceptional audio performance means more immersive results. The reception direction can be adjusted to provide more focused and precise sound recording. A hidden microphone at the bottom of Action 3 even reduces wind noise, giving you more confidence in recording audio in windy or high-speed scenarios.
Connect external microphones
Action 3 is compatible with DJI Mic, which is portable, easy to install and offers a transmission distance of up to 250 meters. 11   Action 3 can also connect with other external microphones via a Type-C to 3.5mm cable.
Turn it into a webcam
Action 3 can be used as a webcam to provide a more dynamic communication experience. Whether for meetings, lectures or just chatting with friends, quickly switch between perspectives and take advantage of stereo audio for clearer conversations.
DJI Mimo
Explore, edit and share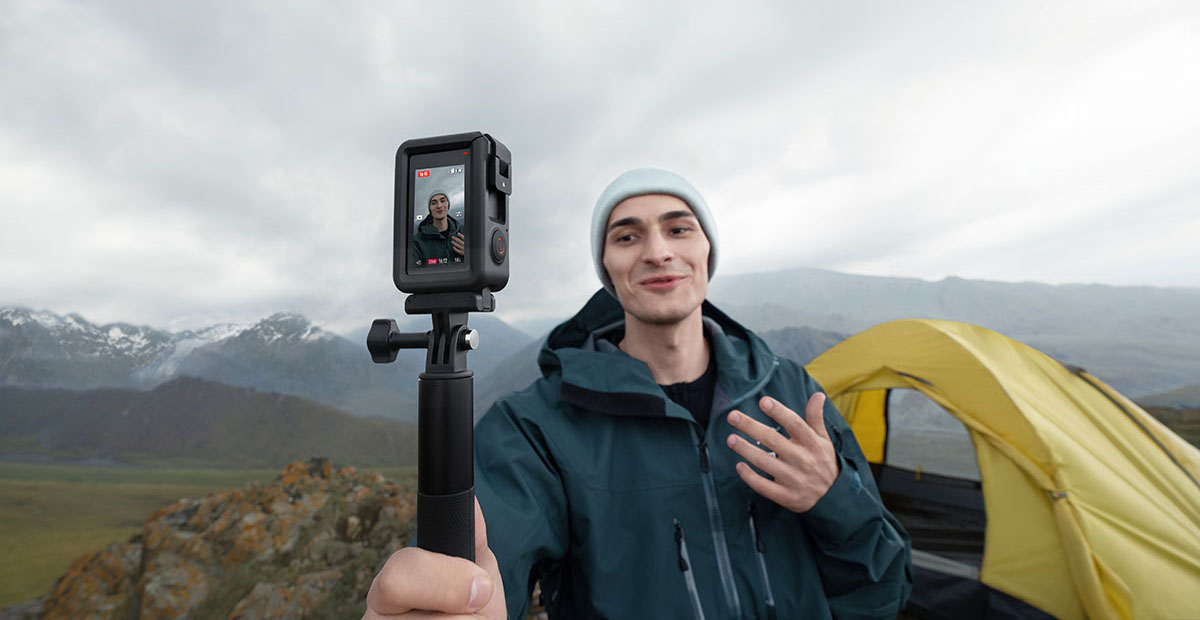 InvisiStick for skiing * *
The DJI Mimo app unlocks the power of your smartphone to get the most out of Action 3. This uses cloud computing and artificial intelligence algorithms to eliminate the selfie stick from skiing and snowboarding scenarios, generating breathtaking footage that looks like a pro.
Direct Wi-Fi streaming
Action 3 supports livestream platforms and multiple resolutions to choose from. Connect with the world at all times and even record live streaming footage.
LightCut video editor
Quickly connect, sync and edit videos
The LightCut editing app is fully optimized for Action 3. It can automatically select clips and intelligently match them with unique templates to generate ready-to-share videos.
One touch editing
LightCut supports direct connection with Action 3 for quick and convenient movie preview viewing. After filming, let the AI ​​select your highlights and generate 4K HD videos.
Attractive models
Choose from a variety of templates perfect for fast-paced cinematics. Breathtaking videos will be at your fingertips, whether it's cycling, snowboarding or diving.
Complete accessories, endless possibilities 13
Note
When using this product for the first time, activation using DJI Mimo is required.

The Horizontal-Vertical Protection Frame is required for vertical shooting.

Before use, close the battery and USB-C port cover and tighten the Lens Protective Cover. It is recommended to install the Waterproof Case for long-term underwater shooting or in environments with high water impact pressure. Osmo Action 3 and its Waterproof Case have an IP68 waterproof rating. Do not use the camera in hot springs or expose it to corrosive liquids.

The high frame rate of 120fps is applicable to 1080p, 2.7K 16: 9 and 4K 16: 9 video specifications.

To avoid the risk of damage, do not throw, hit or crush this product.

Data captured in a laboratory environment at -20 ° C (-4 ° F) while recording video at 1080p / 30fps, with EIS disabled and screens turned off, and should be used for reference only.

Data captured in a laboratory environment at 25 ° C (77 ° F) while recording video at 1080p / 30fps, with EIS disabled and screens turned off, and should be used for reference only.

Data captured in a laboratory environment at 25 ° C (77 ° F) while using the DJI 30W USB-C Charger, with the video shooting / recording function disabled and the screens turned off. The data should be used for reference only.

The hydrophobicity of the front screen, rear screen and Lens Protective Cover is achieved through an AF coating, which could be damaged by scratches.

Currently, only English and Mandarin Chinese are supported for this feature. Use it in quiet environments and ensure clear and accurate pronunciation.

FCC compliant and tested in an interference-free outdoor environment.

InvisiStick is only suitable for skiing. Results may vary when used in other scenarios.

Some accessories can be purchased separately

The ideal charging temperature is between -10 ° C and 40 ° C. Do not stick to curved surfaces and make sure the fixing surface is clean. It is recommended to press on the accessory for 10 seconds after application and leave it in place for 30 minutes before use.

This product can only be applied to smooth, flat and non-porous surfaces and is only suitable for activities that do not include impacts. When attached to the exterior of a car, motorcycle or other vehicle body, use it only on flat roads and at speeds below 80 km / h (50 mph). It is also recommended to use it with a safety lanyard to prevent accidents or getting lost.
Package Contents
| | |
| --- | --- |
| Standard Combo | Quantity |
| Osmo Action 3 | 1 |
| Extreme battery for Osmo Action 3 | 1 |
| Horizontal-vertical protection frame for Osmo Action 3 | 1 |
| Rubber lens protector for Osmo Action 3 | 2 |
| Quick release adapter holder for Osmo Action 3 | 1 |
| Flat adhesive mount for Osmo | 1 |
| Locking screw for Osmo | 1 |
| USB-C to USB-C PD cable | 1 |
| DJI logo sticker | 2 |
| Fast guide | 1 |
| Limitation of Liability | 1 |
| Warranty | 1 |